Jamie O'Brien


need work ... will play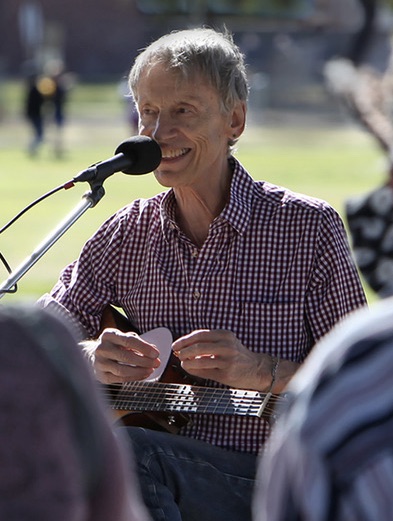 Jamie O'Brien is so much more than a singer-songwriter. Yes, he sings and is a prolific songwriter. But he also accompanies himself on guitar and ukulele and plays a dozen more instruments for fun. Looking back on a musical career that stretches back decades, he counts not only on being a solo performer, but also leader of his band, the Launies, a collaborator with many fine players and as an accompanist for other musicians. Add to that the variety of styles he has delved into over time: Celtic, Americana, Hawaiian ... the list goes on.

His travels have taken him from his South London home, across Europe, then the United States, including Hawai'i. He has performed at festivals large and small, from the North Texas Irish Festival in Dallas, TX, to the McLain Celtic Festival in Carlisle, PA; in theaters (including Tucson's Berger and the Paliku on Oahu); in concert series, like the Mukilteo Coffee Company Concert Series on Whidbey Island, WA, and Pennsylvania's Coatesville Traditional Irish Music Series; coffeehouses from Norway, ME (the Nomad Cafe) to Thomas, WV (Purple Fiddle). He has played in retirement communities, hospitals, colleges and airports, for organizations such as the Ancient Order of Hibernians, the VA and the East Maui Watershed Partnership, as well as at the Pennsylvania State Capitol.

Jamie has worked with many musicians through the years, including from the world of Irish music, singer Aoife Clancy and Nancy McCallion, pipers Kieran O'Hare and Eliot Grasso, accordion players Dan Possumato and Billy McComiskey, fiddlers Jim Eagan and Rosie Shipley and banjo player, John Walsh and multi-instrumentalist Gary Mackender. Among the many Americana/bluegrass/old timey musicians are singer and multi-instrumentalist and singer, Henry Koretzky, singer/guitarist Dede Wyland, and bass and guitar player, Karl Hoffmann. He has also played with George Kahumoku Jr., Ozzie Kotani and many other Hawaiian musicians.

He has released six solo CDs to date: "My Wild Irish Boy", "Many's The Mile, Love..." and "Celtic Shades" (all Celtic albums); "Chasing Ghosts" and "A Long Way From Lambeth" featuring mostly original songs, and a Hawaiian music album, "O'Brien Sings Hawaiian".

Whatever the genre, no matter the venue, Jamie is available with his soulful, eclectic approach, always performed with a feeling for the origins of the music and a certain touch of humor.

Jamie now lives in Tucson, AZ, and in Honoka'a, HI. To contact him for more information and bookings, please call (717) 802-5783 or write to jobrien@launies.com. Check out his website at www.launies.com.