Celtic Shades
a new album by Jamie O'Brien & friends
Hawaii Media Arts BIMA World Music Album of the Year (2016)
Click to go home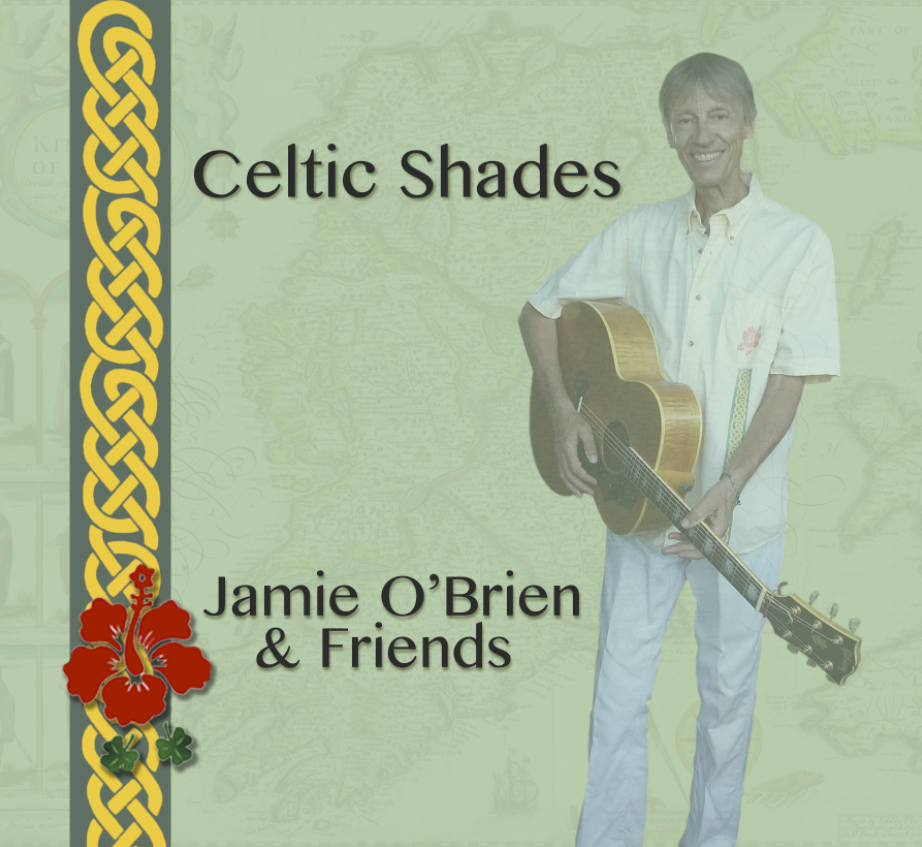 "Love And Freedom" - Jamie: vocals, guitar - Henry Koretzky: mandolin
Why Celtic Shades?
I come from a London-Irish family and heard many songs when I was young: a lot of traditional Irish songs, but also many from music hall. While immersing myself in traditional English folk music with the Adelaide Band, I discovered a mutual appreciation of Irish music with Paul Marsh - we would often sit and play Irish tunes, him on accordion, me on harmonica. I moved to Germany and met Uli Altdoerfer - together we embarked on a journey through Irish, mixed with various other styles, particularly Breton. Later came Philadelphia and guitarist and fiddler, John Brennan, his sister, singer Eugenia, accordion player John McGillian and others at the Glenside session. John's Sligo style fiddling was a contrast to my friends in Baltimore, particularly Jim Eagan and his approach to fiddling; there was also Laura Byrne (flute), percussionist Myron Bretholz and everyone else at JP's session, all influencing me in their own way. I teamed up with the demanding Dan Possumato and his old style melodeon playing: demanding as I keep veering into non-traditional styles and he has to pull me back! Since moving to the South West, I've not played much of the pure stuff, but have worked more and more in other styles - Hawaiian, singer-songwriter and so on.
For this album, I've looked at the various tracks I had stored on the shelf - promo recordings, demos to show fellow musicians the songs I sing, live material - and realized how many different approaches I have to celtic music - here are some of the different shades.

The musicians:
Henry Koretzky (vocals, guitar, mandolin) -- his website
Henry holds the distinction of being the first musician I met and talked to after arriving in the US. Some time later, our mutual friend, Ryck Kaiser, decided to form Medicinal Purpose and to my delight, I found myself playing alongside Ryck, Carol Whitfield, Bruce Campbell and Henry. The five of us still get together occasionally one way or another, but Henry had become the perfect musical partner, accompanying me, performing with me (as a duo and in Shades of Green & Blue), as the Launies and as part of his contradance band, Unbowed.
Kristine Allen (vocals)
At one point, Kris was part of Shades of Green & Blue, but we've mostly played as a duo or trio (with Chad Shambaugh of the Launies). I love her approach to music, so fresh, exuberant and lively - so different! She wanted to record an album and asked me to help produce it. I took her along to Paul's studio in Baltimore and we began work. After recording a handful of songs, logistics sadly got in the way - Kris lives in Pennsylvania, Paul in Maryland and I'm in Arizona. We couldn't work out a schedule to complete the album so the project went on 'hold'; but Kris kindly let me include a couple of tracks here.
Sharon Goldwasser (fiddle) -- her website
After arriving in Tucson, I was lucky enough to meet and occasionally play with Round The House and new friendships started building up for me in a new town. Sadly, the group split up. But that also gave Sharon and me the chance to play together more often. I love her fiddling and mandolin playing and the way she comes up with great tunes.
Lisa Otey (keyboards) -- her website
Tucson has many wonderful musicians and I've been lucky enough to meet up with some of them. Lisa plays all kinds of music, mostly with Diane Van Deurzen. I was so happy when she said she'd add her talents to this album.
Dan Possumato (button accordion) -- his website
A highlight of my musical year is when Dan calls me and asks if I'm free. Since moving to Arizona, I've not had much opportunity to play traditional Irish music - I was spoiled back East with those wonderful musicians in Philadelphia and Baltimore - Dan gives me the chance to pick up where I left off. We first met when he toured the East Coast with his band, Last Night's Fun, and I was asked to sit in when their guitarist wasn't available. That was the start of our partnership - first of all with the band, Fanai, and then as a duo. We've toured both East and West Coasts and Canada, playing everything from house concerts in the DC area to the North Texas Irish Festival.
Emmy Truckenmiller (vocals, fiddle)
Emmy has a beautiful voice and also plays fiddle. We've worked together in Shades of Green & Blue and now I'm looking forward to playing more when she moves to Arizona!
Bruce Young (vocals, fiddle) -- his website
I first met Bruce on the contradance circuit when I was playing with Medicinal Purpose. We soon discovered a mutual love of Irish song and began playing together as a duo and as members of the Launies. Bruce suggested he produced an album and so the project was born. But, as with Kris Allen, geography got in the way and halfway through, things went on the back burner. But I couldn't forget about the wonderful recordings Bruce took care of - thanks, Bruce!



The songs:
1: Pair of Brown Eyes (Shane MacGowan) 4:25
performed by Shades of Green & Blue
Jamie - lead vocal, guitar
Henry - harmony, mandolin
Emmy - harmony
The group, Shades of Green & Blue, grew out of performances by Jamie with singer-songwriter Jenny Brennan in the early 2000s. Jenny had sung on Jamie's "Wild Irish Boy" album and the two began to perform in public, mixing Irish and American songs, including both traditional and original material. The idea appealed greatly to Jamie and he continued to work on the project. This later line up includes Henry and Emmy and particularly highlights the delightful harmonies the group has developed. I've always loved the music of the Pogues and this is one of Shane MacGowan's best songs.
* * *
2: Love and Freedom 2:38
Jamie - lead vocals, guitar
Henry: harmony, mandolin
I learned this song from the singing of Cathy Ryan. I used a different arrangement on my "Many's the Miles, Love..." album, but love coming back to this more laid-back version.
* * *
3: An Irish Blues 2:34
Kristine - vocals
Sharon - fiddle
Jamie - guitars
I've known "An Irish Blues" for years, ever since I heard Maura O'Connell sing it. Kris's approach adds new life to the song. Sharon kindly added her talents on the instrumental break.
* * *
4: The Orphan Set 5:48
Bruce - fiddle
Jamie - guitar
Bruce is one of the most dynamic fiddlers I have had the pleasure of accompanying. He also is a dab hand at recording. He wanted to lay down some tracks for a new album for me, but again, logistics got in the way! I've included some of the things we recorded, including this instrumental set that really shows his powerful, expressive playing.
* * *
5: One Starry Night [live] 4:22
Jamie - vocals, guitar
This is the live recording I used to demonstrate the song to the folk who were going to accompany me on the version found on "Many's the Miles, Love..." When performing, this is the arrangement I usually use. I had no idea where I'd found this traditional song until I recently rediscovered a Sean Tyrrell album I'd not heard for years - I think I must have learnt it from that, the only other version I have. It's lovely!
* * *
6: Red is the Rose 3:26
Jamie - vocals, guitar
Lisa - keyboards
I started singing this when I lived in Germany after I heard Gudrun Walther do it this way. Gudrun is a tremendous singer and fiddler/accordionist who really inspired me - she now plays with Cara. And I love how Lisa came up with such a beautiful, sympathetic accompaniment.
* * *
7: Lady of Autumn (Dave Webber)/Stars for Liesbeth (Glenn McLure) 3:03
Jamie - vocals, guitar
Henry - mandolin
In the early 1990s, I heard this song for the first time when Beggars Velvet performed in concert for the SFMS in Harrisburg, PA. Soon after, my friend and 'cousin' Cushla Srour of Irish Blessing kindly tracked down the lyrics for me. While playing with Sharon Goldwasser, she came up with the idea of pairing the song with Glenn McLure's beautiful waltz and this arrangement has become a standard in my repertoire ever since.
* * *
8: Sweet Bride (Kate Rusby) 3:18
Jamie - vocals, guitar, harmonica
As a big fan of Kate Rusby, I'm always listening out for her work. I love the way she arranges traditional songs and I love the originals that she writes.
* * *
9: Polkas 3:06
Dan - button accordion
Jamie - guitar
Dan constantly comes up with tunes I've never heard before - which quite amazes me because I've heard a lot of tunes over the years. But he always seems to find things that sing out on accordion and fit so well with guitar accompaniment.
* * *
10: Jacaranda (Steve Tilston) 3:50
Jamie - vocals, guitars, Tahitian ukulele
Bruce - harmony
I enjoy stepping away from the 'expected' every now and then and writers like Steve Tilston have composed songs that really fit my sound and provide a contrast musically with the other songs I sing. I can still picture stepping off the bus in Dolores Hidalgo on a hot and dusty day and being confronted by the incredible jacaranda trees in full blossom towering over the town square. I just sat there for what seemed like hours with a lemonade, reveling in the beauty of the place.
* * *
11: Young Sailor Cut Down in his Prime 3:40
Jamie - vocals, guitar
Bruce - fiddle & harmony
I've been singing this song since my Ogron days in England. Sometimes, I've switched to "Streets of Laredo" or "Bard of Armagh" for a change, but I wanted to include something nautical so here's the first version I learnt.
* * *
12: Slip Jigs and Reels (Steve Tilston) 4:36
Jamie - vocals, guitar
Henry - mandolin
Another classic by Steve and one that often opens my performances. I love the stories Steve tells and I love the accompanying possibilities his superb melodies encourage.
* * *
13: Red Is the Rose 3:58
Kristine - vocals
Jamie - harmony, guitar, harmonica
Another example of Kristine's wonderful singing, this time with a more expected arrangement of this lovely song. Thank you, Kris!
* * *
14: Musical Priest Set 5:59
Bruce - fiddle
Jamie - guitar
I'm so happy I know so many superb musicians!
* * *
15: Shades of Green and Blue (Henry Koretzky) 3:39
performed by Shades of Green & Blue
Henry - lead vocal, guitar
Emmy - harmony, fiddle
Jamie - harmony
When I moved to Arizona, it looked like the band would fade into history. But Henry liked our name so much, he wrote this song. And like a bad penny, I keep coming back from the South West and we still get together. Henry's singing and this song are always the highlight of the performance.
* * *
16: Holy Ground (Gerry O'Beirne) 3:58
Jamie - vocals, guitar
Henry - mandolin
I used to put on concerts in Pennsylvania and Gerry was one of the stars of the series, appearing three or four times over the years - what a singer, what a guitarist and what a songwriter! After one show, we sat there in my kitchen and he gave me some idea on how to approach a couple of his songs - this is one.
* * *
17: Molly Durkin 2:17
Jamie - vocals, guitar
Henry - harmony, mandolin
Mortimer 'Murty' Rabbitt is one of my heroes. I've found very few of this Galway man's songs, but love every one of them. As far as I've found out, he performed on the music hall circuit on the East Coast in the 1900s, sometimes under his own name, sometimes as part of various Irish orchestras. When I first heard this song, I knew I had to sing it - it often is the closer on my live performances.
* * *
bonus track 18: Mele na Leni [live] (Jamie O'Brien) 3:01
Jamie - guitar (F taro patch tuning)
Dennis Soares of the Big Island of Hawaii is a tremendous multi-instrumentalist and producer. I've been luck enough to know him for the past few years and we try to get together whenever I visit the Hilo area. Each year, he produces compilation albums and has included some of my songs over time. He always encourages me to keep up with songwriting and playing and this track is a result of that. It's a live performance, dedicated to Lenny The Dog - the day Lenny passed on, I sat with my guitar and just couldn't be sad - he was such a wonderful companion who frolicked through life with great joy and even learned how to herd 'sheep'. It's for you, up there in Doggy Heaven, you good boy!