Jamie O'Brien
solo and with accompaniment
Click to go home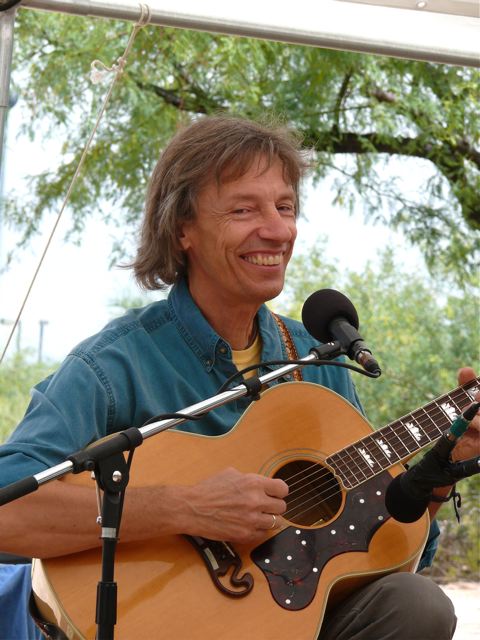 "Love And Freedom" - Jamie: vocals, guitar - Henry Koretzky: mandolin
Jamie comes from a London-Irish family and traveled and played extensively throughout the British Isles and mainland Europe before settling in the US. He brought with him a wealth of songs, many learnt from his family and many picked up from friends and fellow musicians along the way. He started playing guitar in his early teenage years and exposed to a variety of musical styles, he soon added instruments such as hammered dulcimer, harmonica, mandolin and banjo to his arsenal. But first and foremost, he has been a singer: from his early days as a choirboy in a cathedral choir in London (it only lasted three weeks), through the rock, pop and soul music of the '60s, into country and folk (American at first, then British and Irish songs and tunes) in the '70s, to pure Irish and some Central European songs in the 80s.
Soon after arriving in the US and eager to hear the music that surrounded him, he discovered bluegrass thanks to the Harrisburg-based High Strung (which featured Henry Koretzky and Bruce Campbell at the time). Soon after, he was invited to join Medicinal Purpose as a founding member by group leader Ryck Kaiser and was delighted to see both Henry and Bruce also in the lineup. Medicinal Purpose initially played old timey music for contradances, but eventually expanded to include other genres (swing, celtic and more) as well as songs (Henry, Ryck, Bruce and Jamie all adding vocals). The band released one instrumental album, Uncorked, on cassette.
Jamie's love of Irish music took him on regular trips to Philadelphia and the sessions there (especially John Brennan's session in Glenside). When Harrisburgers discovered Jamie's talents with Irish music, the Laune Rangers soon were formed and found plenty of opportunities to perform. Following a number of personel changes, the band evolved into the trio of today, often including old friends who were no longer able to devote full time to the band.
Parallel to the Launies, Jamie has continued with his love of other genres. He initiated a project with Grammy winner, George Kahumoku Jr., where the two musicians brought together their different cultures and traditions into "Oceans Apart - Islands Together: a Celtic Aloha". This project has also involved other musicians and dancers, including Daniel Ho, Keoki Kahumoku, Nancy Kahumoku, Job Cabato, John Winship, Jennifer Johnson and Hillary Horner. Celtic Aloha has performed across the Mid-Atlantic States and throughout the Hawaiian Islands.
He has also worked extensively with Henry Koretzky: they formed the contradance band, Unbowed, with Bruce Campbell often joining them on bass; and they formed Shades of Green & Blue, which connects songs and tunes from the British Isles with sister songs in the US. Jamie has formed a celtic duo, Cobblestone, with Tucson-based fiddler Sharon Goldwasser; he also often sits in with another of her bands, Scatter the Dust, when they need a vocalist.
Traditional Irish music has never been far from Jamie's heart. He helped form the Alaskan-based trio, Fanai, and continues to tour with Dan Possumato of that band - Dan is a tremendous button accordion and melodion player. Over time, Jamie has proven himself to be a fine, in-demand accompanist, having played with such musicians as singer Aoife Clancy, pipers Kieran O'Hare and Eliot Grasso, fiddler Jim Eagan and dulcimer and fiddle player, Ken Kolodner.
In recent years, he has also returned to performing solo, often featuring his own songs. He has played on the East and West Coasts, throughout the Southwest and in Hawaii, as well as back in Europe and is often accompanied by Henry Koretzky.