All the LAUNIES that ever there were:
Launies (past, present and guests) include:
KRISTINE ALLEN is a lovely singer and fiddler who can usually be found gracing the stage in musicals and plays, and playing with the Bloom Consort and other ensembles;
MEGAN BARTGES (guest) added hammered dulcimer - she was a member of Gladly Play With Strings.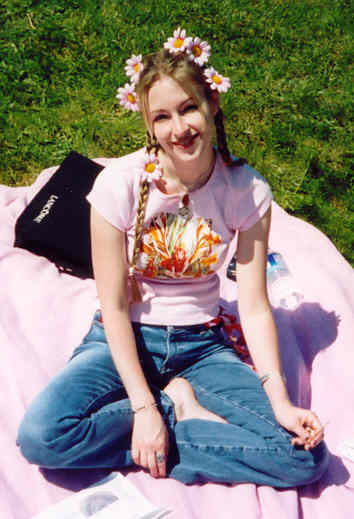 JENNY BRENNAN (2001-present), a superb singer-songwriter who sometimes sings with the band, lives in Nashville but works all over the place. Contact her here.
JOHN BRENNAN (guest), a tremendous fiddler and guitarist from Philadelphia. He's released an excellent album with John McGillian, with whom he performs regularly as a duo. He also plays with the Brennans as well as in other lineups, in the Philadelphia area and further afield and he runs the Thursday night session at the Glenside Pub and the Sunday afternoon session in the Plough & Stars.
JOHN DREIBELBIS (2002) has been known to add his pipe, flute and whistle playing to the band on occasions.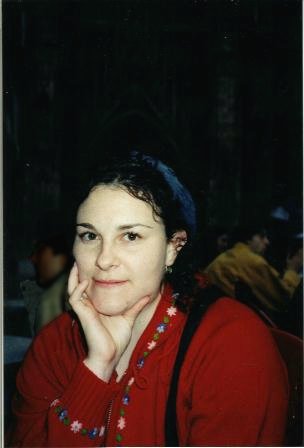 CARA KELLY FRANKOWICZ (1997-2000) is alive and well, studying at Berklee School of Music, playing sessions all over Boston and currently performing at HersheyPark, which makes a change from previous summers when she played at Busch Gardens. Email her here.
ANDREA HAMMILL (1998) - whoops, we've lost touch with her.
HILLARY HORNER (2003-present) usually dances with the Broessler School of Irish Dance and we've been lucky to accompany her on occasions.
CHRIS LAUGHERY (1998) performs all over central PA and further afield with the band Wyndfall.
LOUIS LYNCH (1998) performs with John Varner in central PA.
RYCK KAISER (2000-present) plays with Medicinal Purpose, the Yard Dawgz, the Feastie Boys and in many other guises. He was involved with the band as a guest right from the start and now plays regularly with the hometown Launies. You can reach him here.
HENRY KORETZKY (1999-present) (mandolin, cittern, vocals) has stepped into the breach on more than one occasion, adding delightfully different sounds to the band. Along with Ryck Kaiser, Carol Whitfield and Jamie O'Brien, he's a member of Medicinal Purpose - he's also part of many other bands, too. He plays regularly with the Launies road band.
TIM McCARRICK (2000) is still performing in and around Philadelphia and also runs a superb web page, well worth a visit. You can reach him there, too.
JOHN McGILLIAN (guest) plays accordion with John Brennan and in a number of Philadelphia-area bands. He also plays guitar, sings and a lot more beside.
DANIELLE McGINLEY (2001-present) was a member of Lena McGinley & the Ceili Dancers, though she now lives in California, and occasionally dances with the Launies.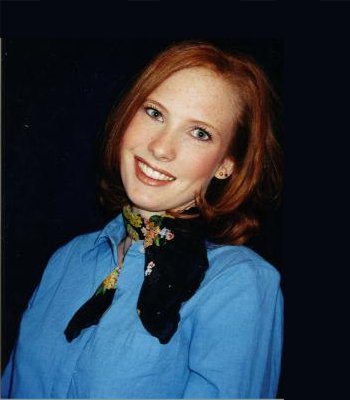 LENA McGINLEY (2001-present) also leads the Ceili Dancers, a performance dance troupe based in Harrisburg. Email her here.
JAMIE O'BRIEN (1997-present) on guitar and vocals - this is his web site.
DAN POSSUMATO (1999-present) plays accordion with the Launies whenever he's available. Unfortunately, that's not often, as he lives in Alaska, where he plays with Last Night's Fun.
RACHEL ROGERS (1998-99) danced with the band and entered Launie folklore - can we ever forget that amazing performance that added new dimensions to Irish dance? I believe she then moved to Chicago.
DAVE SANSOUCIE (1999-2004) goes from strength to strength and never seems to stop working. Still based in York, Pa, he was engineer and performed on Launie Tunes and still occasionally joins the band on guitar, mandolin and vocals as a special guest.
CHAD SHAMBAUGH (2001-present), percussionist extraordinaire, is now based in Nashville and can be reached by beating your mouse here.
BEVERLY SMITH (guest) is best known for her old timey singing and guitar playing as well as her contradance calling; but she is also pretty good on fiddle and guested with the Launies.
MATT WARD (1998-2000) plays banjo, mandolin and whistle and is a wonderful singer, too. He's knocking about the area and can be reached here.
CAROL WHITFIELD (1999-2002) added some wonderful bodhran and concertina playing to Launie Tunes.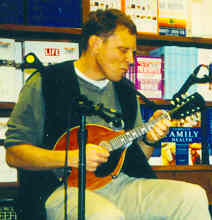 MATT WILLEN (2002-2003) plays mandolin, bouzouki and whistle and he sings, too - reach him by emailing Jamie.
JOHN WINSHIP (2002-present) is the fiddler in the band - he also plays concertina; contact him c/o Jamie.
BRUCE YOUNG (1999-present) also adds new dimensions to the band when he sits in with his fiddling, guitar playing and songs.
CRAIG ZUMBRUN (2004-present), co-founder of the Arcona Reel Band and now a member of Gladly Play With Strings plays guitar and sings with the hometown Launies.
So now you know a bit more about us. If you have any trouble getting through to all the Launies that ever there were, get in touch with me and I'll see what I can do.
Why not take a look at the extremely inaccurate Launies history page?
Or go home.